Wouldn't it be great if your kitchen worktop could charge your phone for you whilst you make a coffee.
If your kitchen is anything like mine it's a tangle of many wires and a pile of batteries on one side. Some of these can't be avoided such as cables for slow cookers, kettles, grill and mixers, however battery powered devices and low power tools could be improved by providing wireless charging, removing a few wires and batteries from the problem.
By embedding transmitters at strategic locations in the worktop you could have phones, tools, utilities and work lights charge themselves when not in use, or be powered when needed. Wireless power transmission also means these things could be totally sealed making them more friendly for the kitchen environment, no more ruined timer from a dip in the gravy!
Charge your phone just by putting it down whilst you make a coffee or work on a project.
Battery free work lights. Simply place a wireless enabled LED light on a transmitter point and have it light up to give better local lighting.
Small workshop tools (cordless screwdriver, rechargeable soldering iron, bench-top hoover, etc) charged when put down to rest on the workbench.
Kitchen tools (digital timers, scales, thermometers etc) could use rechargeable batteries and be charged (or powered) by dropping on the wireless point. Reducing the number of coin cell batteries used.
A low power version of the Amazon Echo could be placed on the worktop/workbench with no wires.
Fun [magical] toys, e.g. multi-color lamps that switch on and change color when placed at specific points on the worktop, or make noises etc.
Implementation: A test implementation can be done with a off-cut of my current worktop, routing out to make a space for the transmitter and then using epoxy to pot the transmitter and electronics into the worktop. A simple LED desk light can be modified to receive the power.
Look Alexa no wires!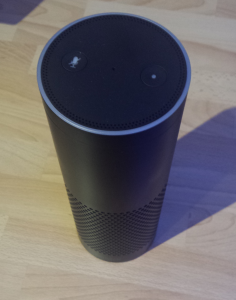 (Note that the Echo needs 21W which is out of range of the wireless power unit, but a lower power or rechargable version may work).
Useless timer from a flat battery – a thing of the past with wireless charging from the worktop?